Rúnar Óli Karlsson
Hornstranded!
Hornstrandir Nature Reserve can be a gift that keeps on giving. But the area can also eat you alive and spit you out the other end
The most remote corner of Iceland is called Hornstrandir. Sticking out into the North Atlantic, the nature and climate is rough and unforgiving to the unprepared. The area was habited for thousands of years but was abandoned in the late fifties when people saw more opportunities in the towns and villages further South.
I've seen many hikers with high hopes boarding the ferries in Ísafjörður, looking forward to some nice days of hiking in Hornstrandir, only to be picked up the day after with everything soaking wet, broken tent poles and a big dent in their self esteem. Also, nobody wants to be the person that the ranger sends back right on the beach because he or she is wearing jeans, carrying a tent from Walmart under the arm and sandwiches in a shopping bag.
So, here are few points to get you on the right track and lead you to a successful backpacking in Hornstrandir. Most of it also applies to other wilderness areas in Iceland.
1. Hornstrandir is a wilderness area. Remember that. Don't expect any services there. So you have to be self sufficient. Only exception is the Old Doctors House in Hesteyri, Búðir in Hlöðuvík Bay (accommodation. Has to be pre-ordered) and the Hornbjarg Lighthouse in Látravík Bay (only operated for few weeks). All other houses you see are private and sometimes occupied by the descendants of the people that lived there in the old days.
2. You're on a private land. Most of the area is a private land and you should respect that. Especially when bypassing houses that are obviously occupied. No peeping on windows!
3. Only camp on designated campsites. We know that the campsites are pretty primitive but they have outhouses and also act as a checking point if you get lost of don't show up on your booked ferry boat back.
4. No open fires. The driftwood is owned by the landowners. They use it for their stoves. Leave it alone.
5. Carry your trash out. No explanation needed here.
6. The emergency shelters are ONLY for emergencies. Use them if you're hurt, everything is wet or the weather is seriously bad. They are not very nice but better than nothing. Most of them are worse than a decent tent and the radios hardly work.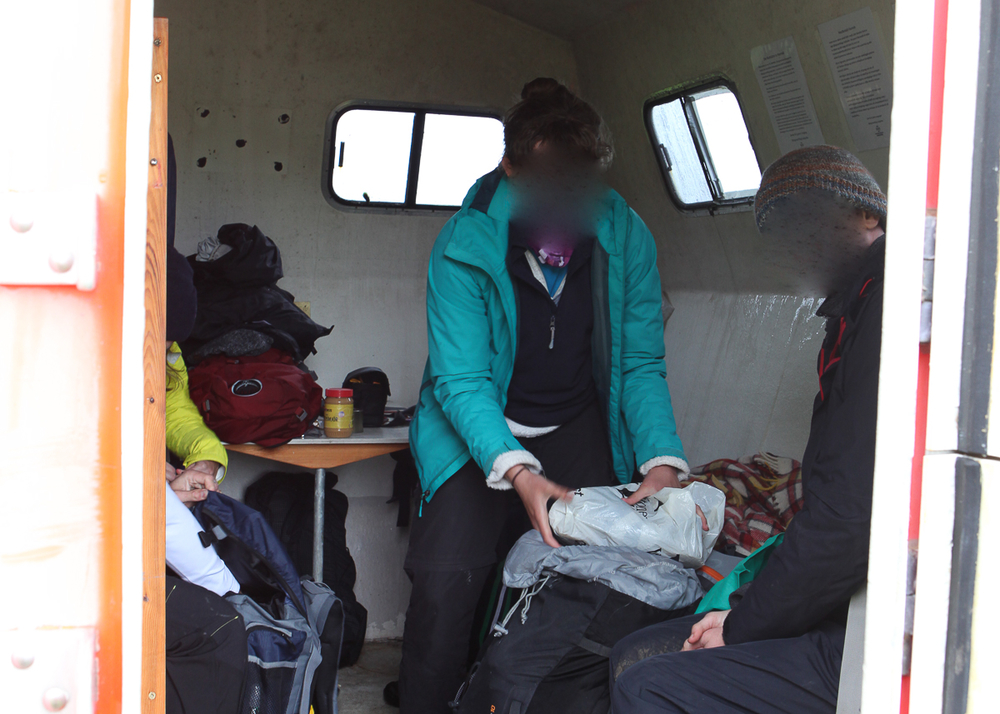 These campers had a rough time in bad weather and used the emergency shelter. Broken and leaking tent and mild hypothermia cut their trip short.
7. Only carry what you need. Not what you want. Making your pack as light as possible, is a big step to a happy backpacking trip. So no pillows, metal cutlery, heavy tent, canned food etc. Use the space in your pack for the good stuff like extra socks, good mittens and puffy jacket.
8. Is anybody out there? Communication. Well, there is hardly any communication in the area. You can find mobile signal in some of the mountain passes facing South and many places along the cliffs of Hornbjarg. Other means of communication that is becoming available for everybody, is Garmin InReach. It works on satellites and can be rented at www.safetravel.is. The InReach has an SOS function that you can activate if things turn really sour. Next thing you'll hear will probably be a helicopter hovering above your head. It's also pretty cheap to buy and can save you if you get into trouble.
9. The paths are hardly paths. The lines on your map are routes. Not necessarily paths. There are some paths but most of them are rocky. But you should stay on them if they exist.
10. My hiking boots are trash. That's probably true. I've not yet found the right pair of shoes for Hornstrandir. The area is wet in many places, rocky and walking through wet grass makes most of them leak. Bring shoes that are high up on the ankle for support, relatively new, and wax leather shoes with proper fat before your trip. Trail shoes are not the right shoes for the area. Or Iceland in general. It's also good to bring short gaiters to prevent snow from getting in your shoes.
11. Travel plan. Discuss your travel plan with the staff at the Information Center. They can tell you if it's realistic or not. Best is to leave your plan there in case something happens.
12. Cotton Kills – Wool is Cool. For God's sake leave your jeans at home! If seriously thinking about bringing your jeans with you, I suggest the following. Soak them in your sink, put them on and try to run. Impossible. Cotton soaks up so much water and that's why cotton is good to mop floors. Same applies to cotton T shirts. Wool is the best insulator you can find. Just look at what Nature does and follow.
13. All I got is this lousy 15 years old rain jacket. Proper rain gear is really essential. When looking for rain gear, buy Gore Tex. Most other breathable "Tex"materials are worthless in the Icelandic horizontal rain. You also need waterproof pants. They are equally important. If you can't afford Gore Tex, bring non breathable 100% rubber coated nylon rain gear. Then a thin nylon wind barrier jacket when it's not raining.
14. Did I wet my bed? – the right tent for the job. Waking up in the middle of the night in a puddle of water, is not fun. Three season tent is essential and only buy/borrow/rent from the serious players on the market. The price tag indicates the quality here. Make sure you can repair broken poles (aluminium tube and tape) and rips.
15. Bad weather? Just wait five minutes. Weather forecast and tidal plan. There is no excuse to be caught with your pants down when a storm hits you on a top of a mountain pass. Today's weather forecasts are pretty accurate and available to everybody. Use Iceland Meteorological Office website and take screen shots on your phone for later. Also good is to print out the text forecast or write it down. You know, pen and paper! If you get 3G signal you should check the latest forecast whenever possible. Some of the routes require getting pass tricky points on the beach. For that reason, it's good to print out the tidal plan. Check Easytide online. Choose the reference point closest to your traveling area.
16. Is this the right Fjord? The navigator´s dilemma. Today's technology is great for navigation and getting from A to B doesn't anymore require the skills of using the solar system. First, get a map. Physical one printed on paper. We know that's old school but it doesn't require battery power to find your way. GPS is essential. Best is a small Garmin that can run a long time without changing batteries. You can also use your phone using apps like Gaia or PDF Maps. Pay for a subscription so you can download the appropriate map before leaving on your trip. Also, learn how to use it! You don't want to end up in the wrong fjord where no boats come like a couple in June 2018.
17. I'm out of here – changing your travel plan. Make sure you've booked a boat ride back at the end of your trip. Then you might decide to extend or shorten your trip. That's fine but you need to let the agency where you booked the tickets, know. Also note that there are few companies operating scheduled boat service. You will have to buy a new ticket if cancelling with one of them and deciding to book a boat back with another. It's a good rule to leave your travel plan at a website called Safe Travel. So if something happens, the authorities can trace your route and find you. There is also loads of information there about traveling in Iceland.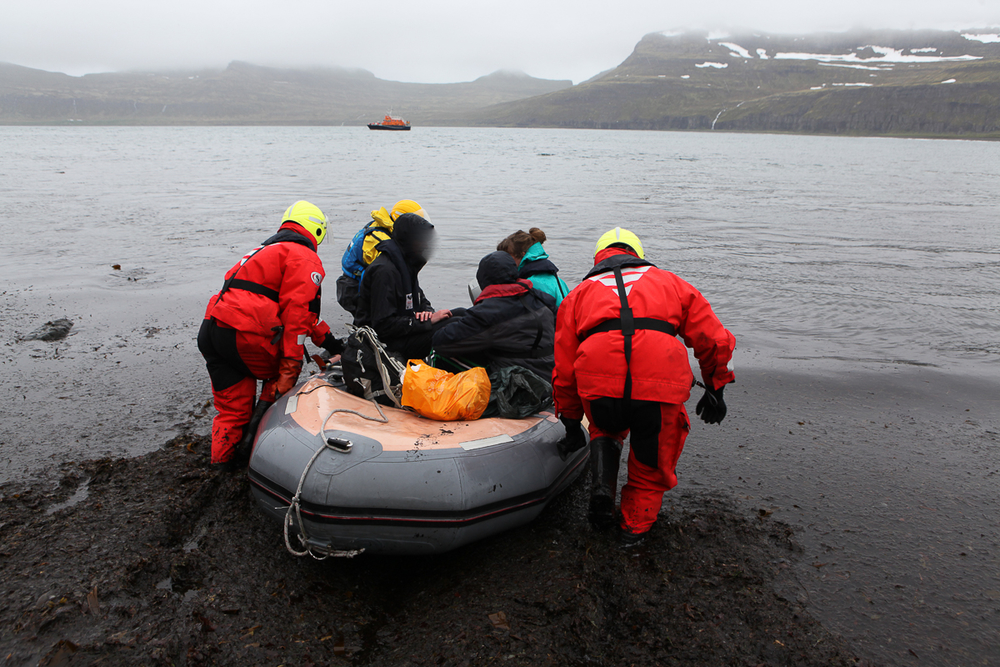 Evacuation by the local rescue boat. Though rescue services is free of charge, it should not be taken lightly to call 112. It's all voluntary work.
18. You wait for the boats – the boats don't wait for you! The boat services try everything they can to be on time. It's not always possible since there are many factors that control that. Weather is obviously important. Then there might be many passengers with a lot of gear that takes time to off load, there might be few drop off points before your pickup point and people might be late. Expect at least an hour up to 2,5 hours before you're picked up. So if the boat leaves at 9 am from Ísafjörður, expect a pickup between 10 and 11:30 for pickups that are one hour sailing time away. For Hornvik, the pickup is usually 2,5 to 3 hours after departure from Ísafjörður. Make sure you're on time since the boats don't wait for you. If you're not at the designated pickup point, the crew scans the area with binoculars. If there is no sign of you, they leave and inform the office that you didn't board the boat. The office contacts the Police and they might call out the Search and Rescue.
19. There is more than one boat company. Keep in mind that there are few companies operating in Hornstrandir. So make sure you jump on the boat with the correct company. Otherwise you'll be charged again. Also if you decide to change your plan and come back with another boat service, you have to buy another ticket. And remember to let the company know where you purchased the initial tickets. Otherwise we might start looking for you.
20. I got delayed and missed my wedding. First rule of thumb, is to have a least one day between your planned arrival back to civilisation and flying out of the country. So, If the boat can't pick you up because of bad weather, your whole plan doesn't get messed up.
21. Oh, what a cute fox – leave the wildlife alone. The nature and wildlife in Hornstrandir is totally protected. The landowners have certain rights to harvest nature but not you! Please back away if you stumble upon nests or fox dens. The foxes are especially vulnerable in June when the cubs are just getting out of the dens and just a little disturbance can harm them. The parents are super busy feeding them and trying to stay healthy at the same time. Stay at least 40 meters away from fox dens. Never feed them and stay on the paths. Few foxes are around some campsites and are getting pretty comfortable around humans. Don't feed them. I know that everybody does but at least then give them protein. Meat, eggs and fish. Not candy or biscuits that can cause stomach problems and make them sick.