New Tour – Wild Camp Discovery!
Do you like the idea of packing a kayak full of camping gear and disappearing into the wilderness for a few days? If you do, then we have the perfect trip for you. Heading out into the wilderness can seem a little daunting at first. What if I capsize my kayak? What if the weather turns a little 'Icelandic'? What if I can't find my campsite? These are all legitimate concerns for those who are not used to it. This new tour takes care of all of these concerns, leaving you to enjoy the beautiful nature and magnificent views.
We are very excited to announce this new multi-day kayak tour aimed at those who want to experience the delights of multi-day kayaking and wild camping but don't have huge amounts of experience.
The benefits of kayak camping are well known. It's all about simplicity. Traveling light means that you can fully immerse yourself in the environment without huge amounts of gear holding you back and getting in the way. Sleeping outside is a wonderful experience which not only allows you to see but also hear and smell the nature around you. The bark of the Arctic Fox in the distance and the smell of the salty sea breeze coming from the ocean while in your tent, is something you will remember forever.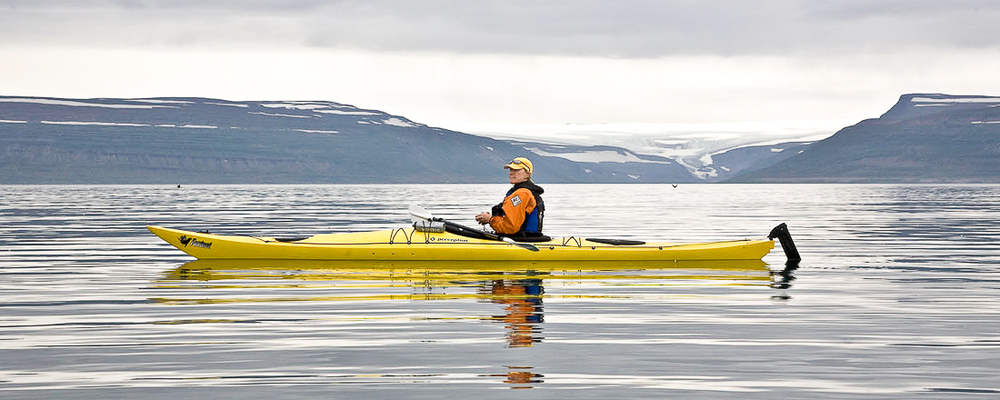 We camp on a small secluded beach at the very tip of Folafótur peninsula. It's a charming area with magnificent views across the fjord to the snowy mountains of the Snæfjallaströnd coastline. The area is rich in history. There are ruins of houses and small farms which were populated about a hundred people during the early twentieth century.
We visit the island of Vigur, which is home to thousands of breeding sea birds during the summer months. The island is known for the farmers who collect the highly insulative eider down feather from the nests after the birds have left, which is then used to make luxury bedding. After a tasty lunch on the island, the next stop is the rocky shoreline of Hvítanes peninsula where we visit the colony of seals. They are very curious and often swim close to the kayaks, allowing us great photo opportunities. On the final day we complete our trip by kayaking all the way back to Ísafjörður.
There are many reasons why this tour is particularly suited to inexperienced kayakers. The area in which we kayak is fairly sheltered, with no long crossings or exposure to big swell. If the wind picks up, we have many options for alternative routes and the distances we cover are shorter than on our other tours. All of this combined creates a wonderful introduction to kayak camping.
CLICK HERE, for more information about Wild Camp Discovery.
Please get in touch if you have any question about this, or any of our other tours.
See you next summer!